''The Gatekeeper''

Name(s)

The Gatekeeper

Appearances

Behavior

Reclusive

Items
The Gatekeeper is the old naked man with a large beard that guards the City Gate. He owns a pack of old rusty keys, which he protects fiercely. However, he is more than willing to change them by a big, shiny golden key.
Appearances
Edit
When The Player shows up at the city gate in Daymare 2, trying to enter the gate will result in the Gatekeeper scowling at you.
Once The Player is inside the city, the Gatekeeper is sitting on a stool, holding the Rusty Keys. Trying to take them will result in a scowl. However, if one gives the old man a Golden Key, he will drop the keys and stare at the key in amazement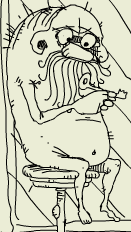 The Gatekeeper is the citizen of Daymare Town charged with keeping the city gate closed. He doesn't let anyone or anything in. He even gets annoyed at anyone inside, especially someone trying to take his old rusty keys. He'll give those up in a heartbeat if someone just gives him a shiny key.
The Gatekeeper's keys fit into almost any lock.