Sand Witch

Type

Character

Official name(s)

Sand Witch

Appearance

Daymare Town 2

Location

Items

Bronze Egg
The Sand Witch is a character that appears in Daymare Town 2.
Appearance
Edit
The sand witch is extremely large, and wears the black gown, common to Daymare Town citizens. She appears to be either barefoot or wearing socks, and has thin, wiry hair. She wears a pair of thin rimmed spectacles.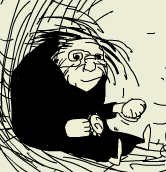 The sand witch resides in a small home made of sand inside the Forbidden District. If talked to, she'll whisper something incomprehensible and put her finger on her lips. However, if given a cheese sandwich, she'll smile happily and give the player a Bronze Egg in return.
The witch's name is a play on the word "sandwich."