Daymare Town 3

Release Date: DECEMBER 16
DayMareTown 3, or DMT3, is the third installment in the Daymare Town series. It was released in May of 2010. The plot is continued with the Player's hot air balloon flight over the Daymare world.
There are several differences from previous installments in the series. The most apparent of these are the graphics, which are more detailed than the previous installments. Another difference is that Daymare Town 3 is more populated with inhabitants who are less aggressive than the inhabitants of the previous games. Fudge! The final aspect that makes Daymare Town 3 unique is the ambient music, which (apart from the blowing wind that can be heard when The Player is outside) was composed by Alex Voytenko .
The game begins with an intro showing the journey in the balloon that began at the end of Daymare Town 2, which crashes. The screen then fades and shows us a new location; The Hospital. The Player then resumes to working toward his aim; to leave Daymare Town. The Player escapes the current district of Daymare Town by opening the main gate.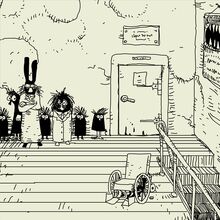 Locations
Edit